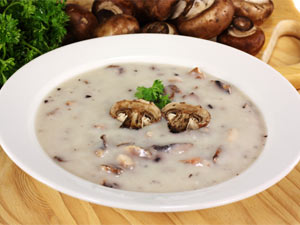 Ingredients
5 yellow onions, thinly sliced

16 oz. mushrooms (recommended: Gourmet Blend – Bella, shitake & oyster)

1 TBSP olive oil or ghee

1 tsp sea salt

½ tsp dry mustard

½ tsp dried thyme

8 cups chicken or vegetable stock

2-3 TBSP gluten-free tamari sauce

¼ cup Mirin (Mirin is a type of rice wine, sweet in flavor. Look for it in the ethnic foods aisle.)

½ tsp white pepper

½ tsp black pepper

Directions
Heat olive oil or ghee in a large pot over medium heat.

Add sliced onions, mushrooms and sea salt.

Sauté for 10 minutes, stirring occasionally.

Add mustard and thyme, stir to combine.

Cover pot, turn heat to low, and simmer for about 30-45 minutes.
Add chicken or vegetable stock.

Add remaining ingredients (tamari, Mirin and pepper) and allow to cook another 15 minutes.

Pour into soup bowls; serve hot.