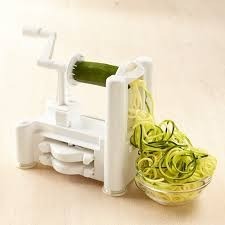 Ingredients
2 zucchini

1 summer squash

½ tsp ghee or olive oil

½ lb. washed button mushrooms

2 veggie burgers (your choice)

Tomato sauce – healthy store bought or homemade.


Directions
Wash the zucchini and squash.

Then peel or "spiralize" each one into long, slim "noodles" (see picture).

Set aside.

Heat homemade or healthy tomato sauce in small sauce pan.

In small skillet, sauté button mushrooms in ½ tsp. ghee or olive oil. Meanwhile, heat veggies burgers in oven as directed.

Then break burgers into crumbles over a small bowl.

Put Zoodles in pasta dishes or on plates, mix with sauce, top with mushrooms and veggie burger crumbles, and serve.